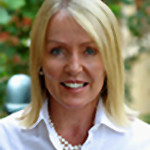 Kate Negoescu is a clinical psychologist. She has a BA (Honors) from Murdoch University and a Master of Psychology Degree (Clinical) from the University of Western Australia. Kate is registered with the Psychology Board of Australia and is a member of the Australian Psychological Society.
Kate practices evidenced based treatments including cognitive behaviour therapy (CBT), eye movement desensitization therapy, hypnotherapy, mindfulness and interpersonal therapy.
At the time of graduation Kate worked in a private psychiatric hospital working with adult inpatient and outpatient groups. She then worked in the CBT Adolescent Outpatient Program and Inpatient Programs. The inpatient setting required that patients be under the care of psychiatrists who managed the biological aspects of patient care. A collaborative relationship between the adolescent patient, the parents, the managing psychiatrist, and the therapist was essential to provide the best patient care and treatment. Kate continues to work in close collaboration with the referring psychiatrist and/or GP to promote best outcomes for patients.
Kate's areas of clinical interest have been influenced by the patients that she has treated. She has written articles for non peer reviewed journals and publications on post traumatic stress disorder (PTSD), hypochondriasis , body dysmorphic disorder and self harm behaviours.
Kate has considerable experience in treating patients with diagnosed psychiatric disorders. She recently reviewed a treatment manual for a 2 week outpatient PTSD program for service personnel. The program included resilience building exercises and the processing of trauma memories. Trauma experience can promote personal growth, as they say "what does not kill you can make you stronger".