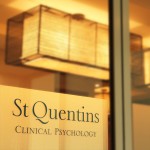 St Quentins Clinical Psychology in the Perth suburb of Claremont opened in 2010 and has grown to become a base for six like-minded clinical psychologists. Together we specialise in a variety of therapies to help people deal with a range of mental health conditions and related issues.
Our rooms in Suite 10 of the Saint Quentins building on St Quentin Avenue in Claremont are designed to help you feel at ease before, during and after a therapy session.
We share common values including an emphasis on skilled clinical knowledge, awareness of contemporary psychotherapy techniques, and a commitment to the quality of our relationships with clients.
All practitioners at St Quentins Clinical Psychology are registered with the Psychologists Board of Australia and therefore practise in accordance with the Board's registration standards, guidelines and code of ethics.
Contact us
We share the same purpose-built premises but operate autonomously. Therefore we each have separate phone and email contact details. You can find all operational details on our psychologists' individual pages.
Find us
To help you get to a session we have provided clear instructions and maps on the find us page.
About this website
This website is designed to add to the service we provide. You can find out more about our clinical psychologists and how we operate, and we've integrated Google Maps to help you get to a session.
The site is responsive to the device you are viewing it on, which means it will resize to fit your smartphone screen, for example, acting like an easy to use app.
If you have any issues with the website, please let one of our psychologists know.