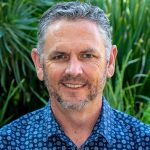 James is a clinical psychologist who helps individual adults. He has extensive experience assisting people experiencing mental health difficulties and life problems including but not limited to depression, anxiety, grief, relationship difficulties, low self-esteem, and work stress. He has 12 years of experience helping people adjust to cancer, pain, injury, and other health conditions.
James offers respectful, non-judgmental, and collaborative care focused on the client's goals. He offers deep listening and helps people understand and effectively manage their difficulties while growing a life of connection, meaning and purpose. He draws on evidence-based cognitive-behavioural and relational interventions.
James is also a registered clinical supervisor with the Psychology Board of Australia and provides health worker education/training with the aim of helping them to deliver high quality care, and to thrive and grow at work.
James welcomes phone and email contact from people who want to ask questions about his service and approach. He can also outline referral and funding options including Medicare rebates and private insurance.
He is an endorsed clinical psychologist with the Australian Health Practitioner Regulation Agency and Australian Psychological Society member. James has completed Bachelor of Science, Postgraduate Diploma, and Master degrees in Psychology.